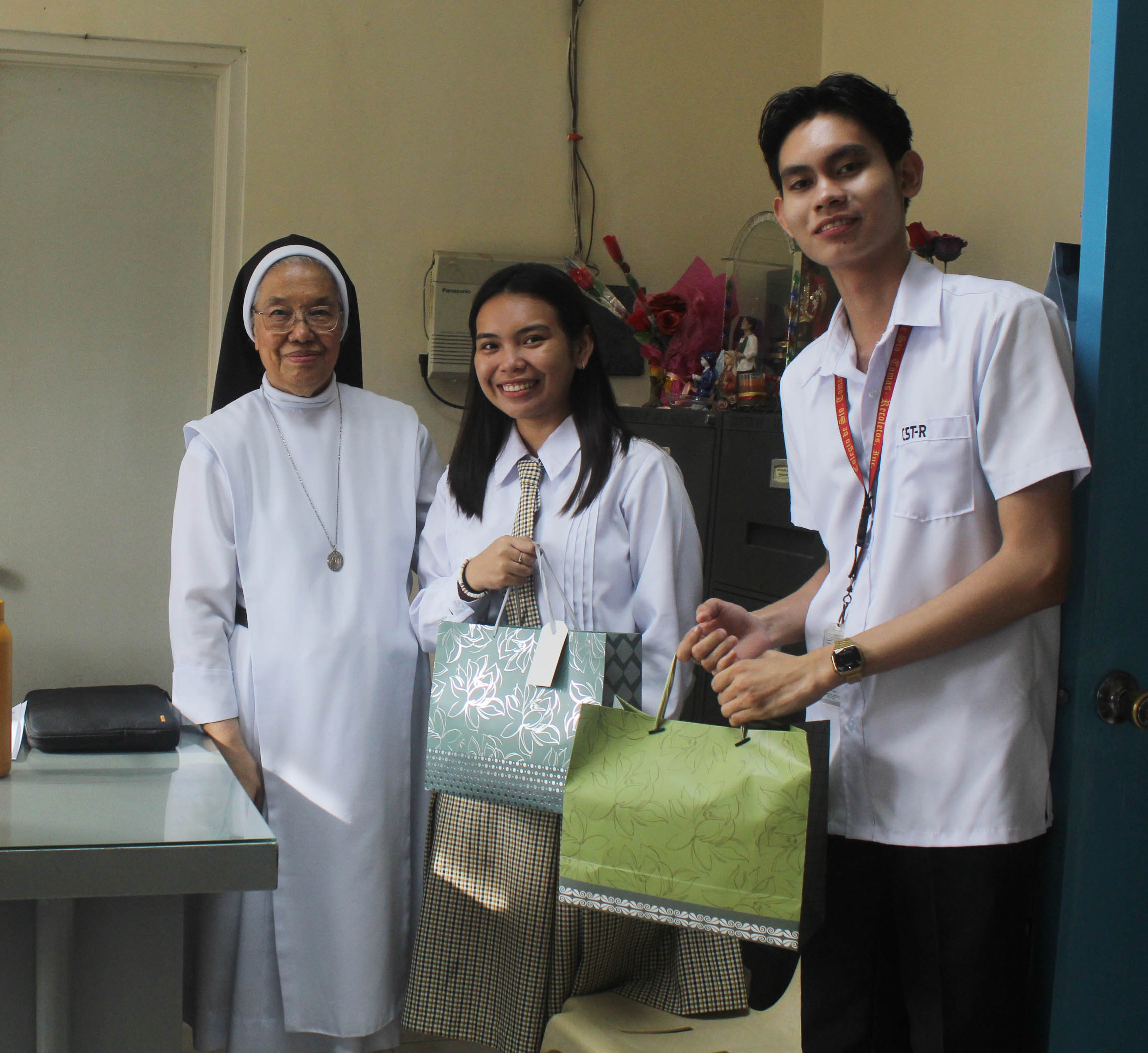 Story & Photos By Georgene Quilaton-Tambiga
September 4, 2023—One Recollect family, indeed.
Thomasians turned over cash donation to Colegio de Sta. Rita de San Carlos, Inc. (CSR) amounting to Php 35,000, today.
The help for Ritarians was collected during the Feast Day Mass in honor of St. Ezekiel Diaz Moreno (anticipated) last August 18. Thomasians, including students, parents, teachers, staff and administrators pooled their resources for the CSR family.
Sr. Ma. Marcela Dela Cruz, AR, superior of the CSR community and directress, and Sr. Teresita Diana, AR, school principal, accepted the donation turned over at the CSR Basic Education Department building at Barangay I, San Carlos City.
"Miracles truly happen."
Sr. Diana shared to the Thomasians how the miraculous image of St. Rita of Cascia, the face of which is made of ivory, withstood the fire. The Tabernacle and the Sacred Hosts with the sacred vestments were also saved and remained intact even as firefighters fought for nearly five hours to contain the fire that engulfed the whole chapel.
For her part, Sr. Dela Cruz made it known that the community in San Carlos City has been pouring their generosity upon the Augustinian Recollect sisters and the Ritarian community by providing food and basic clothing especially to the 12 working-scholars who lost all their physical belongings.
It can be recalled that a fire razed the CSR Main Building to the ground last August 14. The St. Rita Chapel, School Library, Computer Laboratory, Accounting Office, classrooms and other college laboratories were among the destroyed facilities.
Ms. Marinell Ocampo, CST-R Principal, led the Thomasians during the turn over and with her were the newly elected Supreme Student Council Officers from the College and Basic Education Departments.