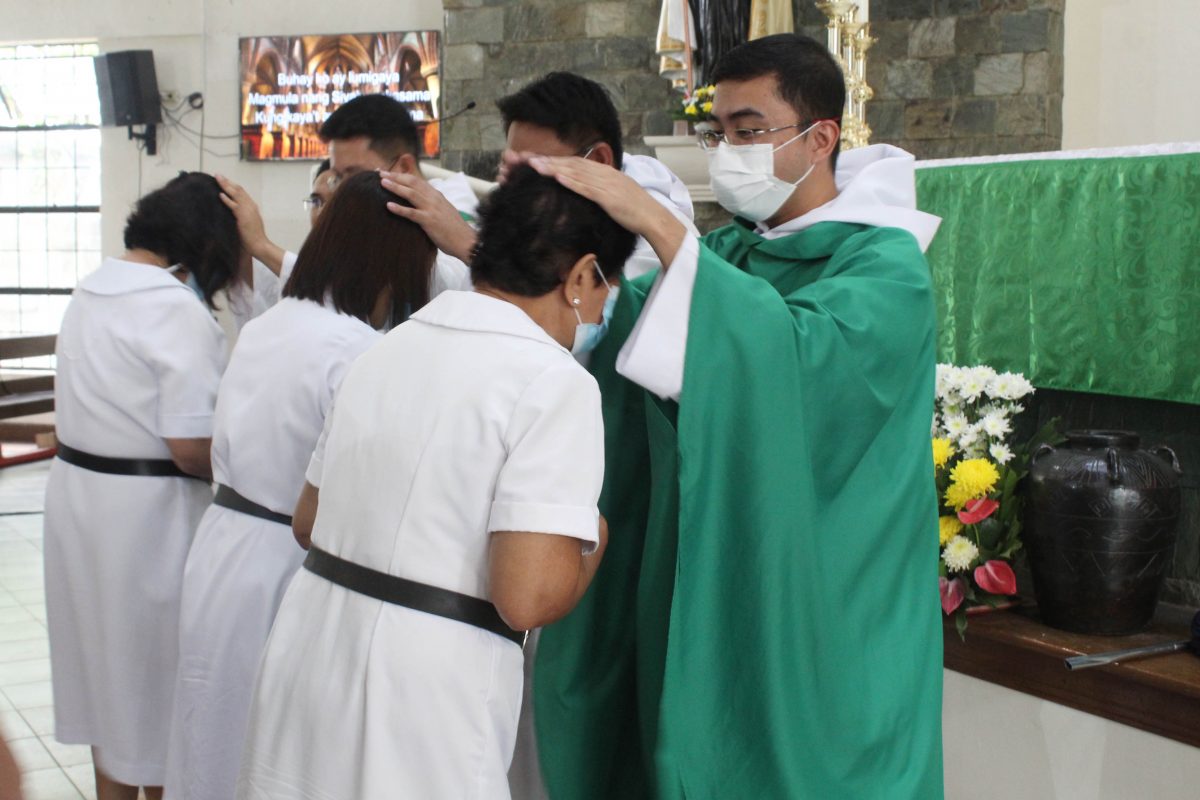 Story By Rachel Mae De Gracia
Photos By Georgene Quilaton-Tambiga
Four newly ordained Augustinian Recollect priests came "home" to Santo Tomas de Villanueva-Recoletos (STV-R) to celebrate their Canta Misa or Thanksgiving Mass at the chapel where their formation story officially began.
Last January 22, 2023, Rev. Fr. Ricky John A. Austria, OAR; Rev. Fr. James Erold P. Gatinao, OAR; Rev. Fr. Cristito Rey P. Tepace, OAR; and Rev. Fr. Julius James T. Tinapao, OAR celebrated the mass with the community of Augustinian Recollects in San Carlos City. The four were ordained to the Priesthood last December 3, 2022 by Most Rev. Joel Z. Baylon, DD, Bishop of the Diocese of Legazpi.
The four newly ordained priests expressed their gratitude to the STVR community for giving them the opportunity to offer thanksgiving in the former seminary where the three of them began their philosophical studies.
In his homily, Fr. Tepace said that the "Lord's calling chooses no age" and that all we need is the initiative to respond to His calling.
"What is your response to the calling of the Lord? Is it a deal or no deal? The choice is yours," he challenged the laity.
The traditional kissing of hands as a sign of respect to the newly ordained priest has been forgone due to health and safety protocols. It was replaced by the "imparting of blessing."
Vocation Stories
Each of the four newly ordained priests has a vocation story worth telling.
Fr. Tinapao, from Bayawan City, Negros Oriental, is now assigned to the Recollect community of St. Ezekiel Moreno Quasi-Parish, Caidiocan, Valencia. At a young age, pursuing priesthood was not on his radar, but the influence of his aunt's Bible and the vocation campaign at his school sparked a burning desire for priesthood.
Fr. Tinapao became a priest "By the grace of God, which started from my childhood and was nourished through those [long] years of my studies."
Hailing from Tiwi, Albay, Fr. Austria, 32, is now assigned to the Recollect community of San Isidro Labrador Parish, Casian Island, Taytay, Palawan. Fr. RJ, as he is fondly called, is proof that altar servers are more likely to become priests than those who are not as exposed to the Holy Sacrifice of the Mass.
His vocation journey has come a full curve from the altar to the BPO company with peers of diverse religions. He, however, gave credit to his non-Catholic co-workers who urged him to pursue priesthood after his exposure to the world outside the seminary walls.
"God already knows where to put you; all you need to do is acknowledge and accept it," he said.
The youngest among the four is Fr. Gatinao who is from Narra, Palawan. He will soon serve in the Our Lady of Mt. Carmel Parish, Inagawan, Puerto Princesa. Fr. Gatinao admitted to have grown up in a deeply religious family. He was surrounded by family members with grounded faith that he came to a point where he asked for a sign if he really should pursue the priesthood.
"Despite our weaknesses and mistakes, God's will shall lead us to a better life." Fr. Gatinao's advice to those who want to pursue priesthood is, to "Begin your vocation through prayer; do not be afraid to pray."
Fr. Tepace, 31, is from Laoang, Northern Samar. He will serve in the Quasi-Parish of Nuestra Senora del Carmen, Hinatuan, and Surigao del Sur.
Despite coming from diverse backgrounds and experiencing vocation formation in different ways, the four agreed with Fr. Austria that "The main authors of your vocation is God and you."